GRUPPO GIOVANI UNINDUSTRIA: THE ACADEMY OF MANUFACTURING STARTS FROM AVIOREC
10 May 2022, Posted by News English
in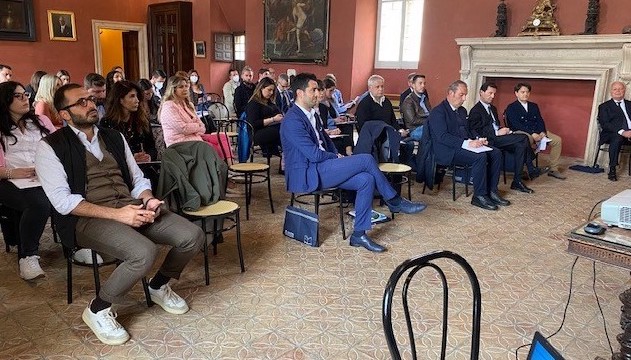 A hallenge that has as its main objective to investigate issues related to the world of manufacturing in line with the "vocation" of the Southern Lazio area to promote the entrepreneurial and managerial growth of young entrepreneurs and managers: to launch it, the Youth Group of Unindustria Frosinone, which in the past few days has cut the ribbon of the first edition of the Academy of the Manufacture training course.
The idea was proposed a few months ago during a meeting of the Unindustria Youth Management which was held at the Aviorec plant in Anagni; to launch it – in addition to the president of the Luca Valeri Group – Jacopo Recchia, Damiano Arnaldi, Susanna Iamunno and Francesco Tomaselli.
Ten training modules have been identified for the training course. The topics that will be dealt with in the different days are: Business strategy; Finance and control; Marketing and commercial; Team building; Business law; Human resources management; Lean management; Supply chain management; Digital transformation and sustainability. On the occasion of the first training day, relating to business strategy, the lecture was held by Valerio Zoino, CEO of the Prima Sole Components Spa Group, an expert in corporate strategies and international markets together with the testimony of the General Manager of Icap Group, Paolo Marini .
"Giving life to this type of initiative creates added value for the whole territory, especially in this particular historical moment in which it is more than ever necessary to team up to grow together – explains Jacopo Recchia, CEO of Aviorec – as the Youth Group of Unindustria we are called to respond to new requests and for this reason it is necessary to have adequate tools to do so; for this purpose, training is central, and investments in training and active employment policies are essential for the restart. We are concentrating on this".